Discover the largest Nagaworld Casino in Cambodia
Referring to Cambodia, many tourists will think of the ancient temples, pagodas and extremely unique architecture of the Royal Palace, Silver Pagoda, Angkor Wat, Angkor Thom,…
---
Besides, Cambodia also attracts visitors by the modern and majestic beauty of the Nagaworld Casino project – the largest casino in Cambodia.
Cambodia is the country that famous for online casinos as well as real casino. Nagaworld is one of the largest and luxurious five-star hotels in Cambodia with magnificent and luxurious casinos. Nagaworld Casino is located right at the junction of the river in the heart of Phnom Penh city, convenient for visitors to visit.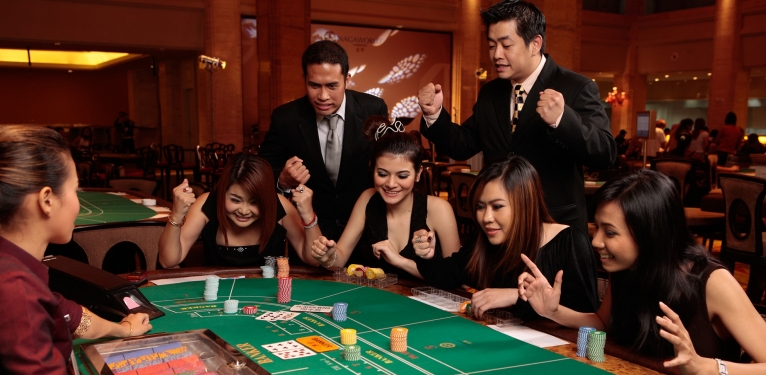 Nagaworld has become a complex entertainment area for visitors with an area of ​​up to 1.2 square meters. The building consists of 13 floors divided into 4 areas with a large-scale casino complex, hundreds of luxury hotel rooms, luxury spa rooms, professional restaurant, with a variety of Asian and European cuisines, diverse. In the future, the Nagaworld building will contribute a significant part to attract tourists to the country of temples.
Nagaworld Casino can be said to be a luxurious destination, mainly for foreign tourists. Nagaworld Casino has a ceiling covered with reflective foil that makes you unable to distinguish whether it is day or night, the floor is covered with luxurious red carpet. Tables and chairs for players to sit well designed.
The casino security was extremely strict with bodyguards in black suits standing outside the inspection door. To get inside the casino, you can only follow the money and identity papers, other items such as bags, cameras, phones, cameras are kept at the inspection gate. Nagaworld Casino operates 24h, day and night always exciting like Taj Mahal Casino in Las Vegas. Every day there are many electronic devices, tables from easy to hard to play are always available for visitors to play. To be able to participate in the red and black game at Nagaworld Casino, you need to exchange chips with the lowest face value of $20 in the ground floor area and the minimum face value of $ 100 to enter the up floor.
Having the opportunity to travel to Cambodia, you can visit Casino Nagaworld to try your luck with a few dollars and visit, admire the luxury of the largest casino in Cambodia.