600,000 Germans are members of 300 nude clubs, they buy cards to be able to wear comfortable walking clothes.
---
Nude is normal in Germany, where many locals feel comfortable when not wearing clothes. An organization called FKK for many years has helped naturalists love nude beaches. In those areas, you are required to naked, according to CNN.
As a child, journalist Marcel Krueger was often sunbathed by his father in the garden at the weekend. In public swimming pools, children of all ages are allowed to run around playing around. And of course, they don't wear clothes.
That lifestyle, that habit is deeply ingrained in Marcel's thoughts. Until now, he was comfortable with not wearing anything in the sauna, gym. "Perhaps, it's because I'm German", Marcel said.
According to him, nude is considered a long tradition in Germany. This country is considered to be more open than its neighbors. The Germans are also too familiar with the words Freikoerperkultur (FKK) – the culture of body liberation. When you travel here, don't be surprised to find that people "clean up" in the sauna, swimming pool, park or on many beaches. Even the Germans are famous for "nudism".
Some public places in Berlin have FKK area: Mauer park in Prenzlauer Berg, Volkspark Friedrichshain park and Tiergarten, beach at Wannsee, Mueggelsee … Passion without dressing Germans originated in the late 19th century. It started from a movement of health competition of people, when nude sunbathing, exercising is said to cure tuberculosis and rheumatism.
In the summer, when visiting the parks in Berlin, Munich, visitors will also meet many middle-aged Germans, wearing only hats and holding the tabloids they love. In 1920, when most of Europe was still boiling because women wore short skirts to reveal their ankles, the Germans had the first undressed beaches on Sylt Island. 10 years later, the first international nude meeting was held in Berlin.
When Germans began to vacation in other European countries, they brought their interests everywhere. The "liberated body" resorts began to open in France in the 1950s. Later, the movement spread to many Baltic beaches.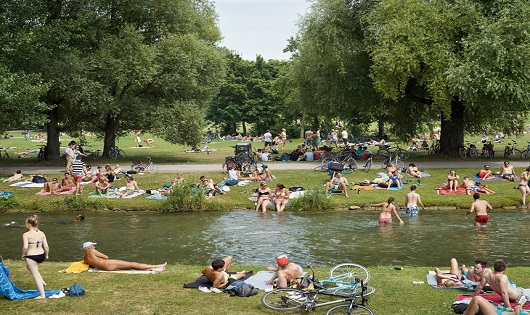 Today, the majority of nude visitors on resorts in Europe are Germans. About 600,000 people have registered as members at more than 300 private nude clubs and more than 14 foreign affiliated clubs. The members visit the club for sunbathing, jogging, wandering in the countryside, just wearing backpacks, boots or running shoes.