If you are afraid, stay away from these places, but if you are interested, these will be the most attractive places not for the faint of heart.
---
Tuol Sleng Genocide Museum
This place is located in central Phnom Penh, once the residence of the notorious Khmer Rouge tribe. During that time, it was used as a political prison camp, also known as security prison 21 (S-21). Of the 20,000 inmates, only 7 survived, the rest were tortured and killed here. Much of this place was abandoned and discovered in 1979 when Vietnamese troops liberated Phnom Penh.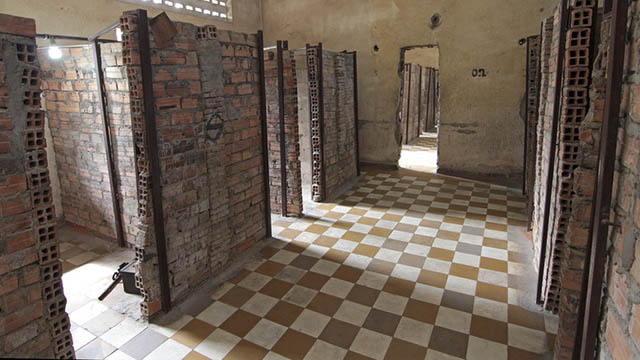 The walls are full of blood, stained bricks and countless brutal torture tools remain, giving a terrified look at a brutal regime. Every 2 years, the staff of this museum will invite the monks to organize a ceremony to pray for the dead victims.
Genocidal Choeung Ek Center
From 1975 to 1979, the Pol Pot-led Khmer Rouge tribe ruled Cambodia, where about 2 million people died of starvation and exhaustion under this regime. Nearly 9,000 sets of remains were discovered at mass graves in Choeung Ek, known as "dead fields", about 30 km from Phnom Penh.
Now it is rebuilt into a memorial monument, it looks very spacious on the outside so visitors can walk around the graves and light some incense for the deceased.
Bokor Mountain, Kampot
Kampot town is 42 km from Mount Bokor, only accessible by motorbike or car. It has Popokvil waterfall, a giant Buddhist statue, a huge casino and many abandoned churches. With a cool climate and great views, so many people visited, but this place was once colonized by France, under a brutal rule and harsh conditions, nearly 1000 Cambodians died.
In the 1950s and 1960s, this place was invaded by the Khmer Rouge and was once again abandoned. Today, people have reopened the Le Bokor building for visitors to visit and explore previous history.
Ghost house
Kampong Cham's notorious haunted house on Highway 5 once appeared in a horror film about the Khmer Rouge. According to rumors, a young couple moved to a newly built house, they dreamed that someone offered to buy a house for $3,000 in net gold, they immediately agreed and the next morning. Woke up, they saw the gold was placed at the door of the house. But they did not move despite taking gold, one day after waking up, they found themselves lying on a wilderness with their belongings. Since then the house no one dared to step into.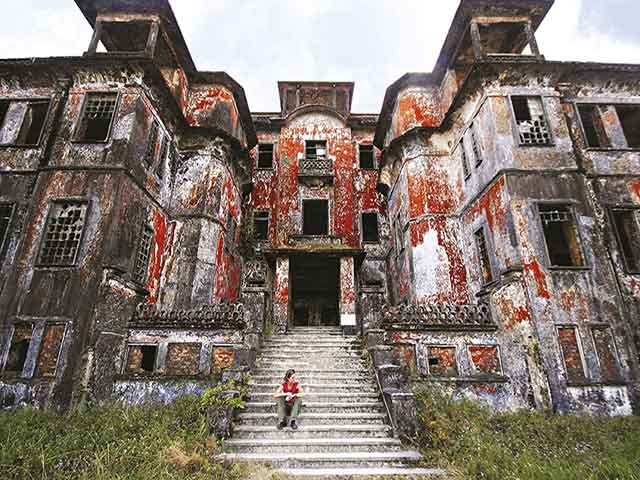 In 2005, the movie "The Haunted House" was filmed in this house, before the shooting, all the actors prayed and made a super ceremony to reassure the spirit, looking forward to forgiveness when invading. It is here.
Independence Hotel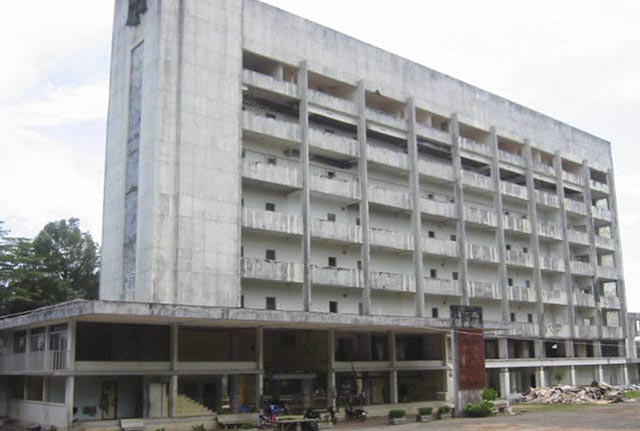 Many locals believe that this hotel in Sihanoukville is haunted. Built in 1964, it is known as a hotel for the rich. However, in mid-1979, this place became the base of Khmer Rouge soldiers. According to rumors, the inside of the hotel is a detention center for prisoners with barbaric executions. In 1982, it was reopened and in early 1990 became the place where the UNTAC army occupied. In 2007, it was remodeled to welcome tourists, many said that they saw ghosts wandering around the hotel.